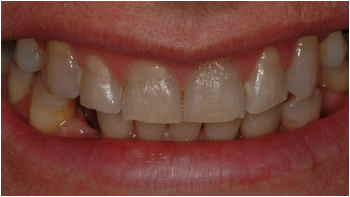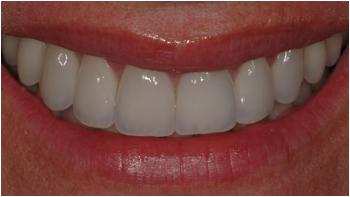 Achieving a Healthy and Beautiful Smile
Cosmetic dentistry has become increasingly popular in recent years. A beautiful smile with healthy gums and teeth is something we all desire and it's what our dental practice strives to provide for all our patients. But cosmetic dentistry is not just about the latest fad in smile makeovers!
To ensure the continued health and beauty of your smile, you need to be sure that the advice you receive is in your best personal interest. In other words, you need to understand the different cosmetic treatment options available and the advantages and disadvantages of each. Our goal is to provide you with just that.
We're committed to providing treatment that is carried out with the highest level of precision, quality and skill.
Brighter Smile 1
A more symmetrical and brighter smile is created by a combination of treatments. Old crowns on the two central incisors were replaced and six porcelain veneers were used to lengthen and brighten the lateral incisors, canines and first premolars. It all began with an analysis of the changes both tooth shape and colour that would provide a more pleasing smile. This was done at the consultation appointment before commencing treatment, which allowed for better communication between both doctor and patient so that realistic goals could be achieved.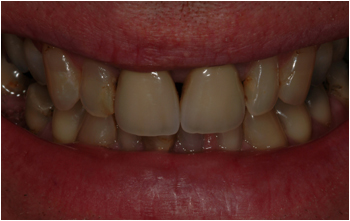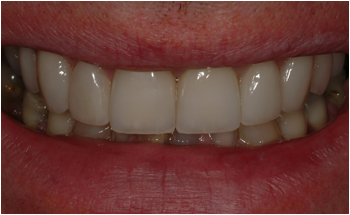 Brighter Smile 2
Porcelain crowns were used to create the significant changes in tooth colour, shape and length. Controlling the bite and maintaining healthy soft tissues are essential to ensure long-term success.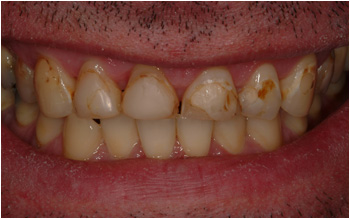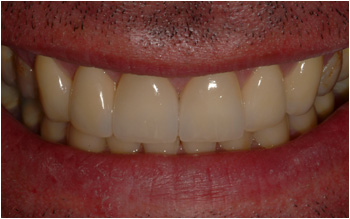 Closing Spaces
Two small porcelain veneers were used to close the space. No tooth preparation was required.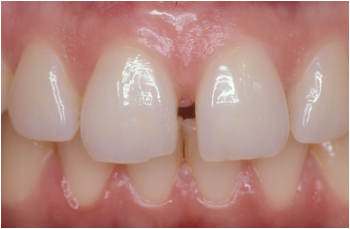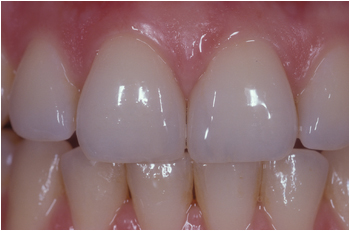 Dark Teeth
Dark roots are sometimes visible around old crowns. Composite filling material was used to try and improve the colour of the adjacent tooth with limited success. Restoring the two central incisors with well-made crowns improved the appearance allowing the teeth to blend well in the smile. Careful control of the soft tissues ensured the dark roots were covered.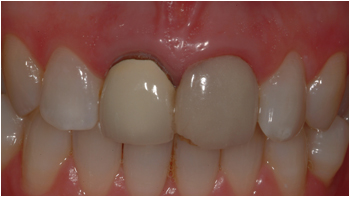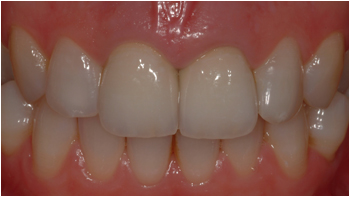 Porcelain Onlay
Porcelain onlays can be used as a replacement for old metal fillings.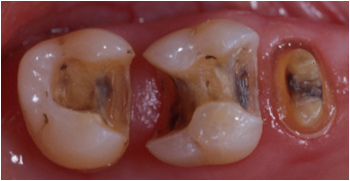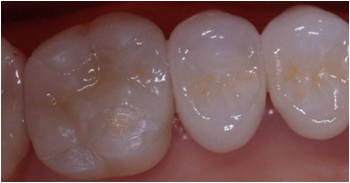 Tooth Whitening
The upper right central incisor was discoloured after trauma. Internal bleaching brightened the tooth. This involved several short visits over a few weeks.
Worn Teeth
There are many reasons for tooth-wear and different patterns exist depending on the cause and the position the mouth. Mechanical tooth wear can result from grinding of teeth or from abrasion with another object such as aggressive tooth brushing. Chemical tooth wear is due to acids eroding the teeth. A correct diagnosis is required to in order to provide the most appropriate treatment. This can vary from simple bonding or advice, to complex full mouth rehabilitation.
In this case the worn incisors were restored with porcelain veneers.