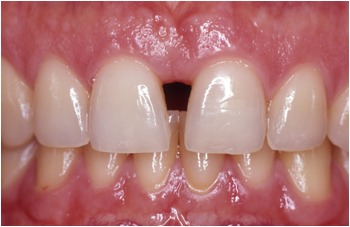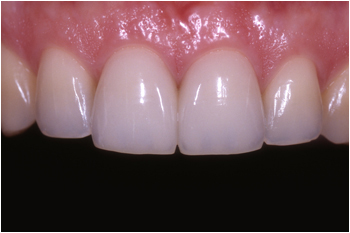 Porcelain veneers are custom made thin laminates that are bonded to the front of the natural tooth. Porcelain veneers are usually chosen because of their exceptional aesthetics and because they involve much less tooth reduction compared to crowns. Being glass-like is a great advantage over other types of cosmetic dental bonding because of translucency. When bonded onto a tooth's surface they mimic the light handling characteristics of the enamel beneath. This translucency provides a sense of depth, and thus a very life-like appearance. Being glass-like also means an extremely smooth and impervious surface that will not pick up permanent stains.
Skillfully designed veneers can improve many types of compromises in the smile, including chipped or worn teeth, misalignment, close spaces and mask discolouration. Although porcelain is inherently brittle, when it is firmly bonded to a sturdy substructure like tooth enamel it becomes very strong and durable.
Veneers 1
The midline space was too large to close with veneers alone. Orthodontics was used to reduce the size of the space and reshape the soft tissue contours. Final correction of tooth shape and size was achieved with porcelain veneers on the two central incisors.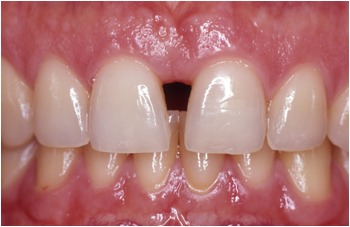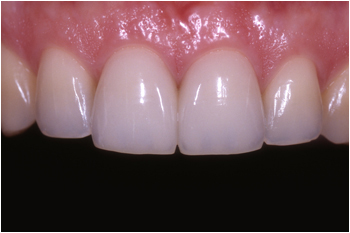 Veneers 2
The right central incisor was fractured due to trauma. A porcelain veneer was used to restore this tooth to ideal contour and colour.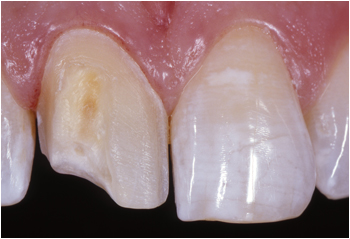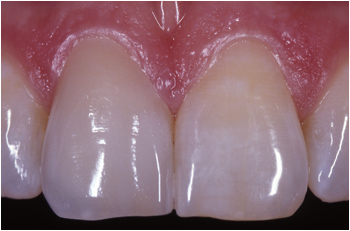 Veneers 3
Soft tissue recontouring was required before closing the spaces and brightening the smile with six porcelain veneers.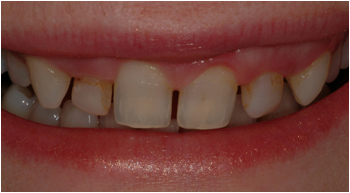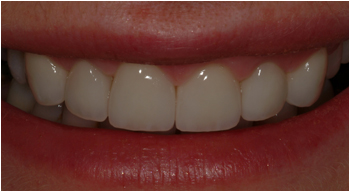 Veneers 4
The four incisors are small in proportion to the rest of teeth. Four veneers were used to close the spaces and create more dominance in the incisors.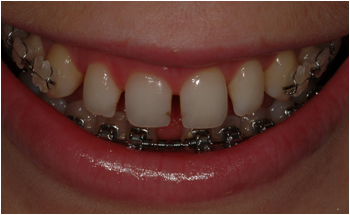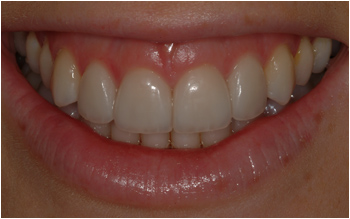 Veneers 5
The tip was fractured due to trauma. The remaining enamel provided sufficient support for a porcelain veneer.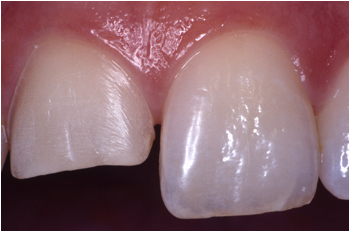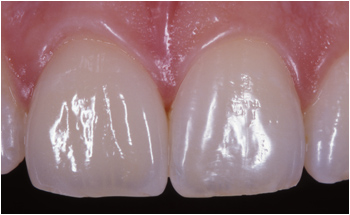 Veneers 6
The central incisors were worn from many years of grinding. The length and balance in the smile was improved with initial orthodontics, soft tissue recontouring and restoring the bridge on the right canine with an implant-retained crown and the four central incisors with porcelain veneers.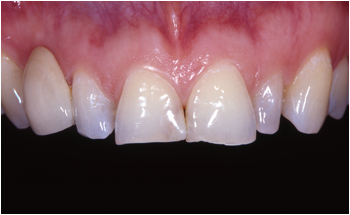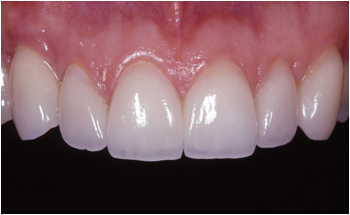 Veneers 7
The smile becomes wider when the spaces, tooth proportion, colour and arrangement are improved with five veneers and an implant-retained crown to replace the right canine.