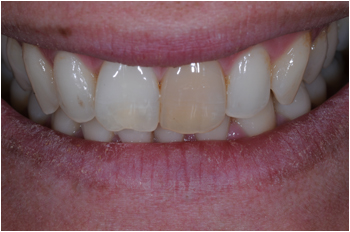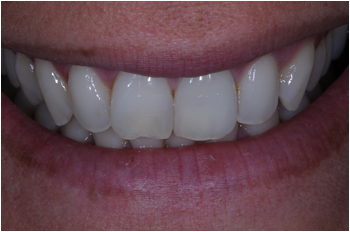 Tooth Whitening
Almost everyone would like to have a whiter, brighter smile. If your teeth are discoloured and yellow from aging, or stained from coffee, red wine and smoking, then tooth whitening is the perfect procedure to rejuvenate your dental appearance without the need for expensive crowns and veneers.
Using custom-made trays and a bleaching gel, the home systems have proven to be very effective in most situations. The procedure generally takes about 10 days to 2 weeks and can dramatically whiten the color of your tooth enamel. There are different options so you can choose to whiten your teeth overnight, or during the day.
Simple maintenance involves one home treatment a couple of times a year to keep your teeth brighter. Internal bleaching can be used on when the tooth has discoloured from trauma. This involves several visits over a few weeks.
Whitening 1
The upper left central incisor was discoloured after trauma. Internal bleaching brightened the tooth followed by home bleaching.