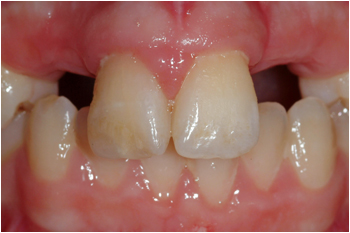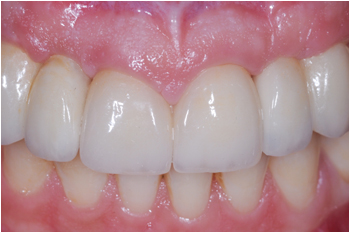 A dental implant is an artificial tooth root used in dentistry to support restorations that resemble a tooth or group of teeth. Dental implants can be used to support crowns, bridges or dentures. The number of implant required depends on the type of restoration and the the amount of bone available. The success of dental implants is based on "osseointegration," which is a strong bonding of titanium and other materials to the surrounding bone. This allows the new replacement tooth (or teeth) to not only have a very strong, stable, and long-lasting base, but also to enjoy all the comfort, functionality, and beauty of healthy teet.
Dentistry offers options for tooth replacement that not only look great but also restore the natural function of teeth. In many cases dental implants are the best option for replacing a missing tooth. The implant itself will take the place of the absent root. After a period of healing a crown is designed that attaches to the implant. The end result is a restoration that is as close as possible to having your own tooth back. Scheduling a consultation is the best way to find out the best avenues for corrective dental procedures right for you.
Dental implants are very strong, stable, and durable and will last many years, but on occasion, they will have to be re-tightened or replaced due to normal wear.
Dental implants offer a secure alternative for people who have lost teeth, who have diseased or failing teeth, or who wear dentures. You may have been told that dentures are your only option, when in fact dental implants can offer a fantastic solution that will give you back your smile and your confidence. With this technique, the adjacent natural teeth remains untouched. They can also increase your comfort by eliminating loose fitting complete and partial dentures.
Single Implant
Implant-retained crown on the right central incisor and a ceramic crown on the left central incisor.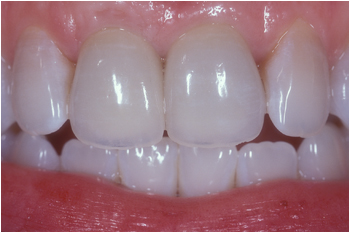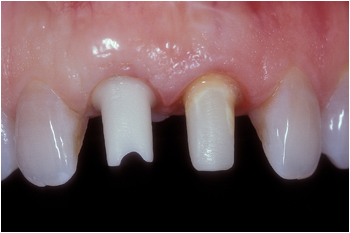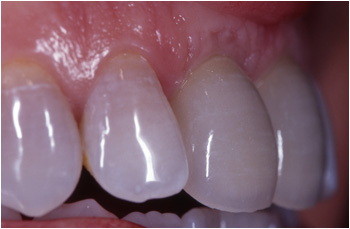 Two Implants 1
It's common for lateral incisors to be missing. Implant-retained crowns can provide stable aesthetic restorations that do not compromise the adjacent teeth.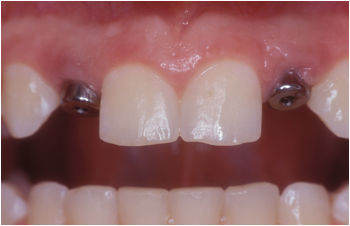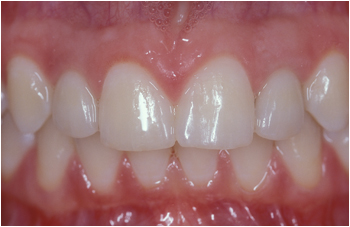 Two Implants 2
Two central incisors were lost due to trauma. Two implants were placed to support 2 metal-ceramic crowns.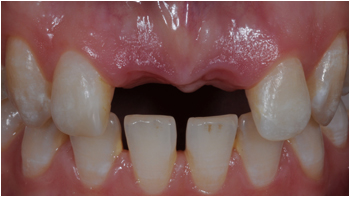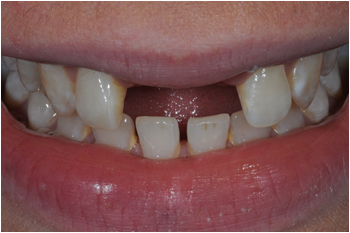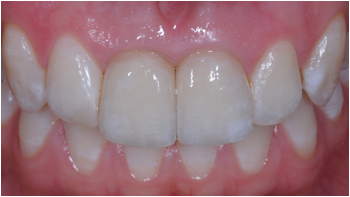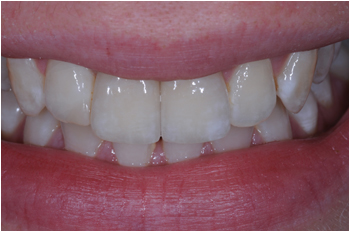 Complex Aesthetic Case
This draws on all the skills and expertise of the Prosthodontist. Multidisciplinary treatment is needed to restore spaces for four teeth lost in an accident. An orthodontist corrected the spacing discrepancy on either side. The outer bone contour was too thin for implant placement. A maxillo-facial surgeon did a bone graft on both sides to thicken these areas. Two implants placed in the canine positions support 2-unit fixed bridges.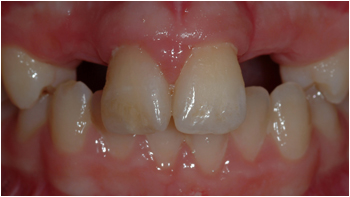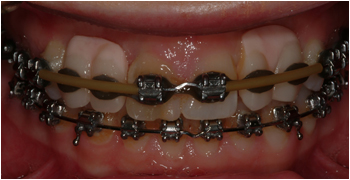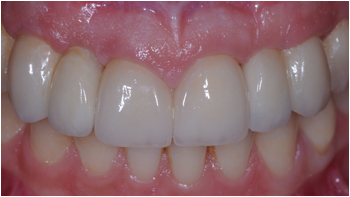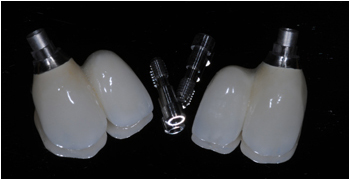 Lower Arch 5 Implants
5 Implants in the lower arch can be used to restore the entire lower arch using a Fixed restoration. A metal framework provides strength and support. Space between the metal and the soft tissue provides room to maintain healthy tissues around the implants. This prosthesis is fixed in place and is only removed by the dentist.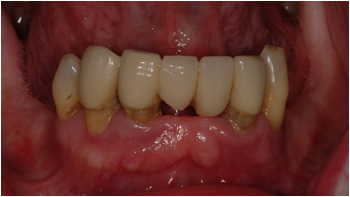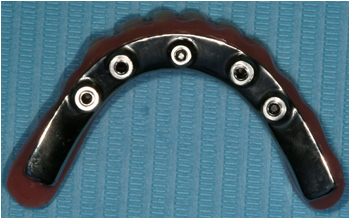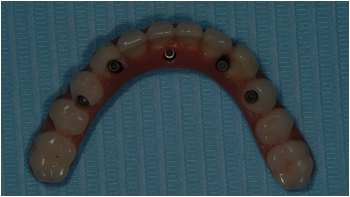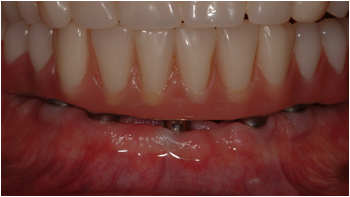 Over-denture 5 Implants
This is a prosthesis that combines the function of a fixed restoration with the hygienic design of a removable restoration. A precision-milled metal framework splints the 5 implants. This provides support for a superstructure which when attached to the bar behaves like a fixed restoration. The patient can remove the teeth to clean underneath the metal bar.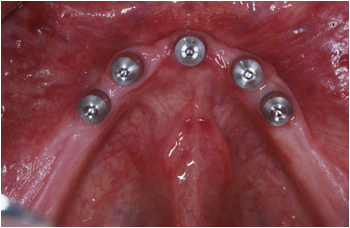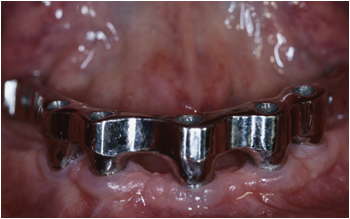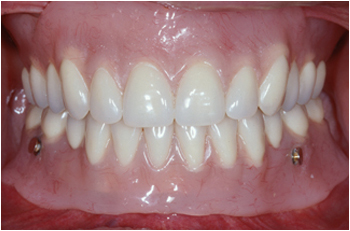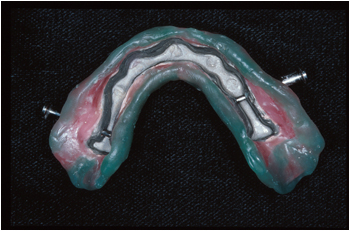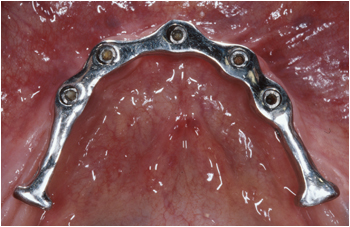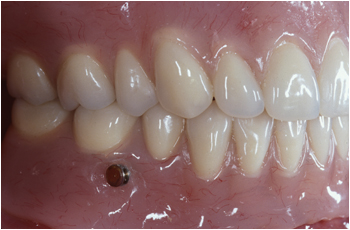 Implants Bridge 1
The four upper incisors were missing for many years. The traditional way of restoring this is with an 8-unit tooth supported fixed bridge. The bridge became loose which led to decay on the right premolars. The teeth were restored with 4 individual crowns on the natural teeth and a 4-unit Fixed Bridge on 2 implants in the lateral incisor positions.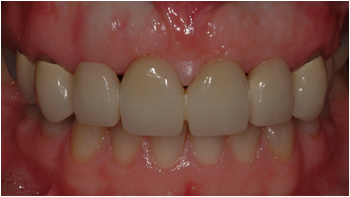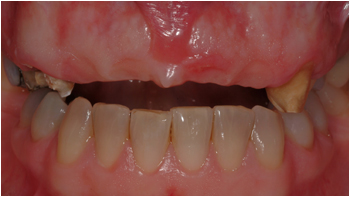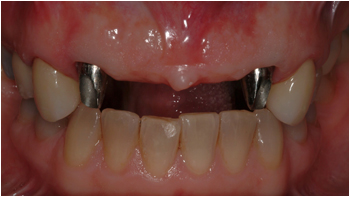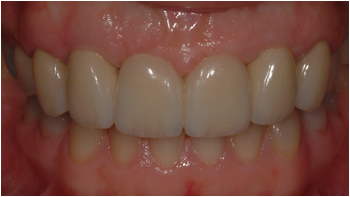 Implants Bridge 2
A partial denture which has been in place for many years was replaced with 2 implant-retained bridges. 5 Implants were needed to restore the missing 8 teeth.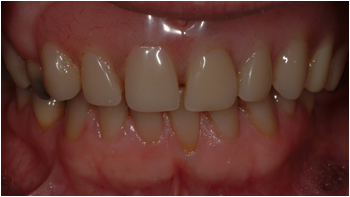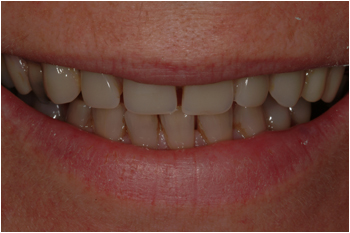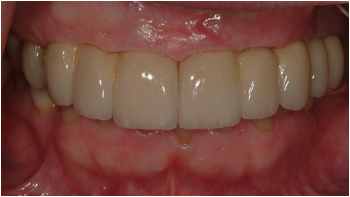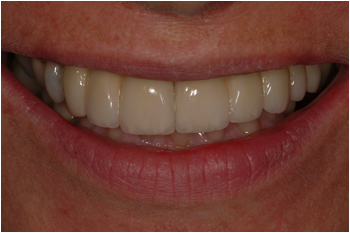 Implants X-rays
Two single implant crowns
3-unit fixed Bridge on two implants.
Single implant crown.
7 implant are used to restore the missing posterior teeth. A bone graft was required prior to implant placement in the upper arch.